Eligibility and Application

You may be eligible if you answer yes to the following three (3) questions:
1. Are you a resident of one of the following Texas counties?
Atascosa, Bandera, Bexar, Comal, Frio, Gillespie, Guadalupe, Kendall, Kerr, Karnes, Medina, McMullen, Wilson
2. Are you:
A single parent working or in training/school at least twenty-five (25) hours per week?  or
A two-parent household with both parents working or in training/school, with each parent averaging twenty-five (25) hours per week?
3. Is your average gross monthly/yearly income at or below the amounts listed on the chart by family size?
*Tip: Family size includes parents and all children in the household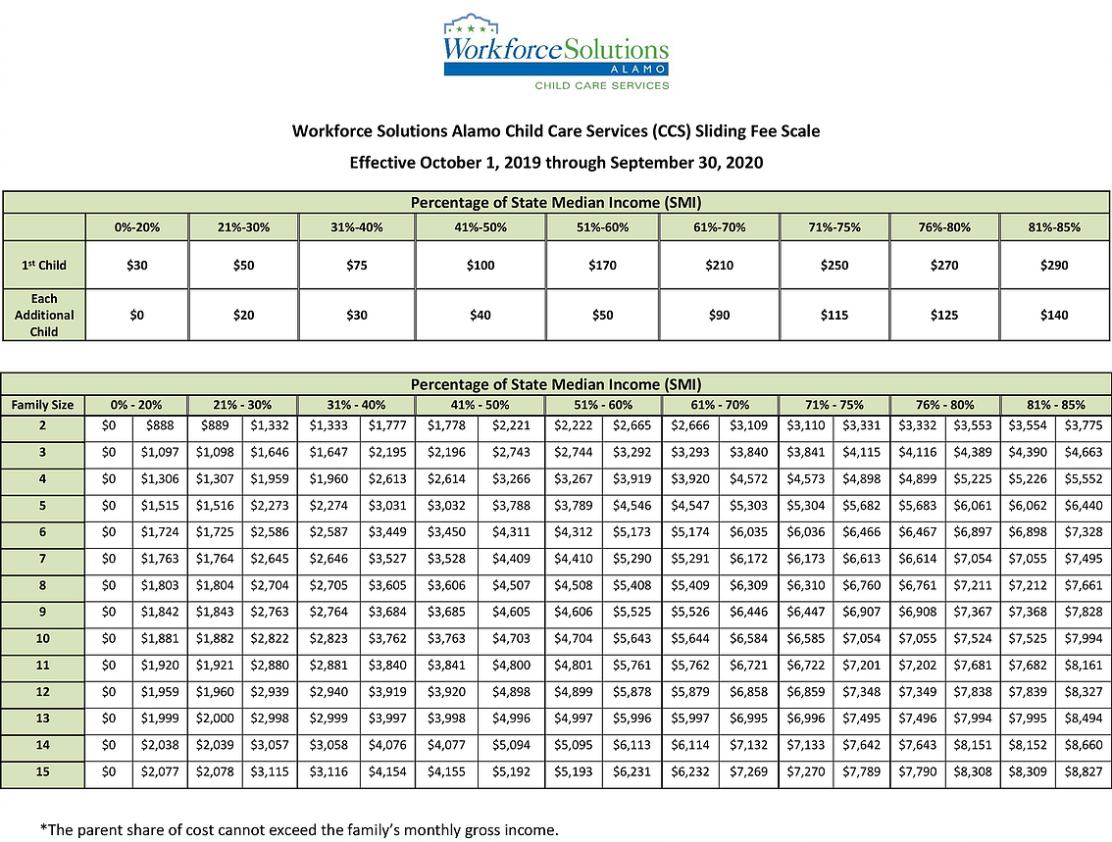 Wait list Application Process
If you answered yes to the eligibility questions, complete the Waitlist Application online
You can request a paper version by calling CCS at (210) 230-6300
Hours of Operation
Office: 7:45 AM to 4:45 PM (Monday – Thursday)

Office: 7:45 AM to 4:30 PM (Friday)

Phone: 8:00 AM to 4:00 PM (Monday – Friday)
*Dropbox available 24/7
Contact Information:

Call: (210) 230-6300 or 1 (800) 204-7905. Our phone system is automated and will prompt you to the appropriate staff.
Email: ccs.intake@wsalamo.org
Fax: (210) 227-2716
Office: 9725 Datapoint, San Antonio, Texas 78229​
You may also inquire about subsidized childcare at any one of our Workforce Solutions Alamo (WSA) Career Centers.
For additional early education and child care resources and assistance visit the City of San Antonio Child Care Services webpage click here.
Contact a Childcare Provider