Jobs in the 13 County Alamo Area
Workforce Solutions Alamo serves as the workforce development board for the Alamo region. We have connections with companies looking to hire and resources to help your job search. Training is available for in demand fields such as IT, Construction, Healthcare, and more. If you are looking for a job now explore our job search resources below.
Clients may apply for the National Dislocated Worker Program Subsidized Employment Opportunity!

These jobs are at nonprofit partners and pay above minimum wage! We have agreements in place and open slots available now. 
Clients can live in any of the 13-Counties that we serve to be eligible for this opportunity.
Please fill out the Interest Form or call (210) 224-4357 to get started.

If you have been affected by COVID-19 and are a City of San Antonio Resident Resident you may be eligible for special initiative, Train For Jobs SA.
How to use this page
Use this page to explore jobs and career resources for the Workforce Solutions Alamo 13 County area. WorkInTexas.com and MyTXCareer.com are updated with new jobs from Texas employers daily!
Other Career Resources:
No cost training is available for clients living in the 13 County Area who were affected by COVID-19 and are looking to gain new skills to enter an in demand field. Training including electrical training, digital marketing, home health, and more are available! To submit interest email sdf@wsalamo.org
Our Workforce Solutions Alamo Career Centers are now open to clients at a limited capacity, please call to make an appointment, if able. We are providing virtual services to clients and encourage clients to use them. Call (210) 224-4357 to get started.
We are holding virtual job fairs regularly. Register on WorkInTexas to receive relevant notices or check our calendar.
Upcoming Hiring Events & Job Fairs
Workforce Solutions Alamo regularly hosts job fairs and hiring events for residents of our 13-County Alamo Area! We have both virtual and in-person events to choose from. Check our Calendar page for a comprehensive list. Please make sure you are registered on WorkInTexas.com as we also send out notifications for upcoming events through this system.
Need help preparing? Our Career Centers can help you prepare for these events at no cost to you! We offer resume review, resume writing, interview preparation, and more!
WorkInTexas
WorkInTexas.com is a comprehensive online job search resource and matching system developed and maintained by the Texas Workforce Commission. It provides recruiting assistance to Texas employers of all types and sizes, and job search assistance to any individual seeking work in Texas.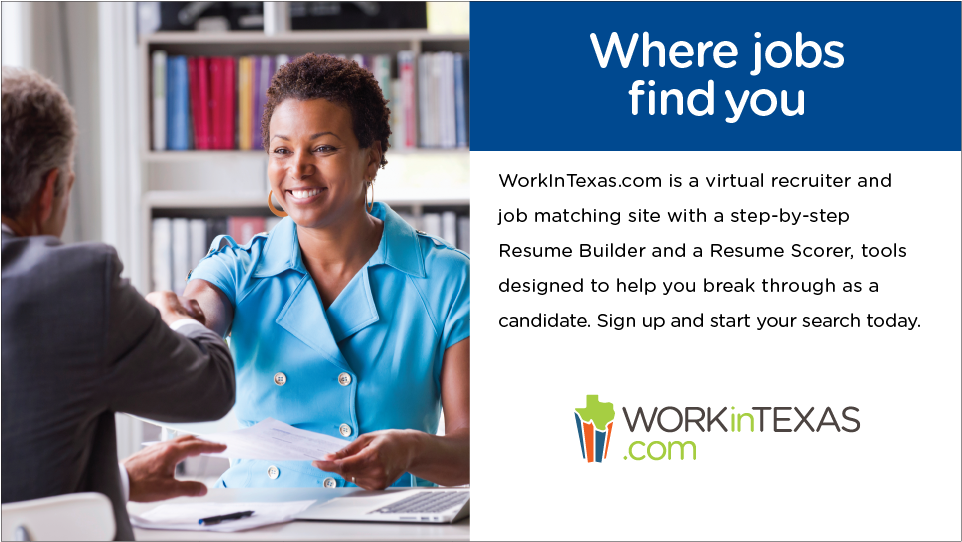 MyTXCareer
MyTXCareer.com is an online application developed and maintained by the Texas Workforce Commission that offers job seekers immediate and continuous access to job matching services. Even when job seekers are not logged on MyTXCareer.com continues to match job openings with qualified job seekers and generates notices to alert them to potential job opportunities. Job seekers can also browse thousands of job postings including all Texas state agency jobs, refer themselves to open positions, complete resumés and/or state applications and maintain them online.
Need Assistance?
Our Workforce Solutions Alamo Career Center staff can help with questions regarding WorkInTexas.com and MyTXCareer.com.